A Veterans' Foundation grant will enable a Worthing-based charity to continue to care for disabled veterans who are in need.
Almost £25,000 has been awarded to Care for Veterans with the aim of supporting in-house rehabilitation services for disabled ex-armed forces personnel.
Since 1919, Care for Veterans has offered disabled veterans and their families respite, rehabilitation, long-term and award-winning palliative care. The charity does not receive Government funding, and each year needs to raise over £1.5 million to enable the continuity of its first-class care services.
This grant will fund physiotherapy, occupational therapy, speech and language therapy and wellbeing activities for a full month. This programme provides an essential opportunity for veterans to regain and maintain their independence, as well as improve their mental health.
Chief Executive of Care for Veterans Andy Neaves was thankful to the VF: "We are so grateful to the Veterans' Foundation for their ongoing support. By awarding us this grant, they have made a significant impact to the lives of our disabled veterans. The money will be well-spent on supporting ex-service personnel and their families to improve their mobility, mental health and independence."
One such beneficiary is 92-year-old resident and REME veteran Donald 'Gus' Goward, who has been living at Care for Veterans since 2021. Seventy years ago, Gus served in the Korean War (1950-1953), which due to the proximity in time to WWII, is often referred to today as the 'Forgotten War'.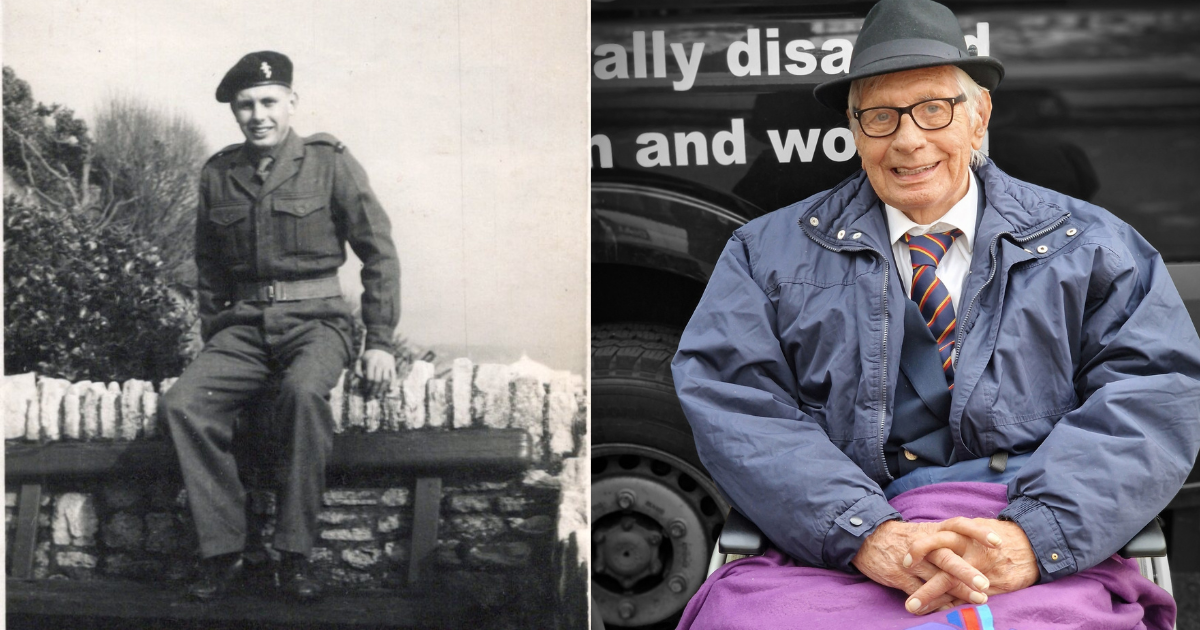 At just 21 years old, Gus became a Corporal and was stationed in Warminster, Salisbury Plain. Gus said, "it looked as though the whole place was going to collapse but it didn't and mainly because the atomic bomb came along and people thought, it's all very well to win a war with an atomic bomb – but you haven't got anything left to fight for if it's gone". Gus supported the war efforts with key motor repairs, kept the men in line and helped to keep the lifeline of ammunition traders going back and forth from the UK to Korea open.
After a series of unfortunate health conditions, including a heart bypass and prostate trouble, Gus received a recommendation for Care for Veterans from a fellow veteran at his cricket club. The exceptional standard of care is a big reason why Gus enjoys living at the home; "the nurses are the backbone of this home", Gus stated.
Gus now lives with a neurological tremor, is in a wheelchair and has trouble with his hearing, but still likes to socialise when possible. On connecting with others in the home, Gus commented, "everyone here has different problems, which makes blending it all together a little bit difficult, but having a shared military background helps". From attending activities in the Hub to joining various events such as the Cenotaph parade in London and the Taxi Charity visit to Worthing Seafront, Gus has been able to make the most of each day despite his physical limitations.
In 2022, 85 residents accessed Care for Veterans' tailor-made rehabilitation services. For some, like Gus, this meant improving their mental health and wellbeing so that they could face one of the toughest physical battles of their life. For others, it enabled them to learn to walk and talk again after surviving life-changing injuries and diagnoses. Thanks to organisations like the Veterans' Foundation, these services can continue for present and future ex-armed forces personnel.
Veterans' Foundation Founder and CEO, David Shaw CBE commented, "One of the aims of the Veterans' Foundation is to ensure that our armed forces veterans and their families who are in need receive first-class care, so we are delighted to have awarded Care for Veterans this grant.  Care for Veterans' work has been crucial to so many people in their 104-year history. I hope they continue to support those who have served and those who are close to them while there is a need."
Established in 2016, the Veterans' Foundation aims to provide a better life for former armed forces personnel and their dependants who are in need by supporting life-changing projects we have now awarded almost £17 million in grants to over 400 military charities and organisations since its inception.
To help support Care for Veterans and hundreds of projects all around the UK supporting our ex-armed forces personnel and their families, please play the Veterans' Lottery. Click here to play for the £50,000 rollover jackpot every month.
If you would like to learn more about Care for Veterans, click here.