A former Major in the Royal Artillery is cycling the full length of the UK during Mental Health Awareness Week in a quest to support British Armed Forces veterans battling the mental scars of service.
Jen Price, 31, will bike from Lands' End to John O'Groats – almost 1000 miles from the bottom of the British Isles to the very top – in a challenge to raise money for the Veterans' Foundation.
"I honestly can't decide if I'm excited or dreading it" said Jen before she set off from the Cornish coast.
"From a physical perspective and looking at my cycling totals over the last few months, I've given myself a seriously tough challenge!"
The ride will take Jen between 12 and 13 days to complete and is completely self-supported, so she will be spending the best part of two weeks alone, reflecting the mental isolation and loneliness that many veterans battle on a daily basis.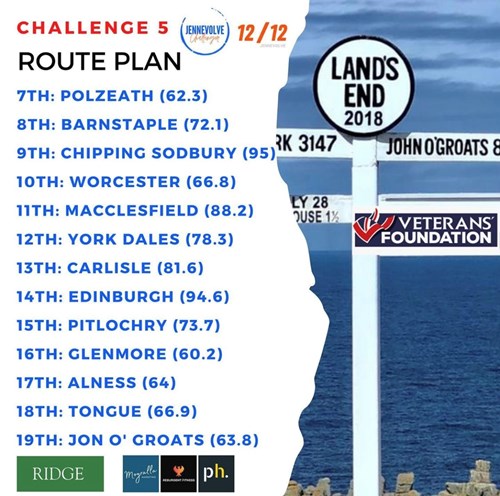 After seeing colleagues and friends struggle with their mental health, especially after leaving the Armed Forces, Jen is passionate about helping those who fight an invisible war.
"It is rare to go through life without experiencing personal trauma of some sort, whether that has been on the battlefield or in your personal life," Jen explained.
"I am a firm believer that trauma should not define you but can be harnessed to motivate you in endlessly positive ways, and it is never too late to get back on track."
Price has embarked on a year-long series of 12 arduous physical challenges in 2022 with the aim of raising vital funds for the Veterans' Foundation, a British Armed Forces charity supporting ex-service personnel who are in need, and who are running the #PTSD100 campaign in 2022, marking the official report that officially recognised PTSD in our Armed Forces for the first time.
The former Major has already completed a 50km cross-country ski marathon, the 64km Jurassic Coast Ultra Marathon, the Paris Marathon and the 125-mile Devizes to Westminster Canoe race, which Jen described as "the most stupid thing I have ever done".
"I honestly wanted to remember a time when I had found something harder, ideally in my military career, but I came up stumps," said Jen.
"We thought we were going to call it a day at the 24-hour point, but Leah (paddle partner) and I somehow managed to see it through thanks, in no small part, to our amazing support team.
I know I'm going to face more pain on the way to the end of these challenges, but I'm determined to see it through to support the Veterans' Foundation and fund projects for veterans facing mental health challenges."
Climbing Kilmanjaro and the Matterhorn is on the calendar later in the year, while the 'Jennevolve' quest ends with another climb in December, when she will summit Cerro Aconcagua – South America's highest peak.
Jen has been writing blogs and making short update films throughout 2022, shared by both the Veterans' Foundation and by Jen herself on her own website and social media channels.
Every penny donated will go to helping British Armed Forces personnel in need and David Shaw, CEO and founder of the Veterans' Foundation, has been thrilled to see Jen's success so far.
"We wish Jen the best of luck in her remaining challenges – she's done an incredible job already."
"The rest of her trials won't be easy, but she has exemplary determination to succeed and is doing a truly great thing," added David.
"We'll continue to follow her journey and we hope you'll join us to support her mission of raising funds for British veterans in need."
You can see all 12 of Jen's challenges and keep up to date with her progress on the 'Jennevolve' website: www.jennevolve.co.uk
To donate and support her mission to help British veterans in need, see Jen's JustGiving page here: https://www.justgiving.com/fundraising/jennevolve1212.