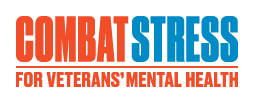 Combat Stress
Why does Veterans' Foundation support Combat Stress?
Combat Stress was founded just after the end of WW1 in May 1919 and for over a century it has helped former servicemen and women deal with trauma-related mental health problems such as anxiety, depression and post-traumatic stress disorder (PTSD).
On average, after leaving service, it takes a veteran 13 years to ask for our help and demand for the charity's services has nearly doubled in the past 10 years. 
Combat Stress provides the UK's only residential treatment for veterans with trauma-related mental health problems and its highly trained staff have specialist knowledge of veteran trauma.
The treatment provided is evidence-based: Their research study work with the King's Centre for Military Health Research evaluates and demonstrates the effectiveness of their services. 
Nationwide, they have a unique peer support service, which is led by veterans for veterans.
How you can support the Veterans' Foundation
The Veterans' Foundation has provided grants to more than 370 charities and organisations in the past three years. It is dedicated to distributing funding to where it is most effective and to date, £5.5 million has been given to projects that have a positive impact on British veterans, and their dependents, in need.
If you'd like to become of a supporter of the Veterans' Foundation you can do so by making a donation, by fundraising, by leaving something to Veterans' Foundation in your will or by joining the Veterans' Lottery. Thank you.