A care home for veterans has hailed the impact of a £30,000 grant from the Veterans' Foundation.
Thanks to the award, Broughton House Veteran Care Village in Salford has been able to fund a variety of initiatives and wellbeing activities for dozens of residents living with dementia or cognitive decline.
Karen Miller, chief executive of Broughton House, said 74 veterans have benefited as a direct result of the grant being awarded in June 2022.
In an annual survey of residents' family members conducted over the past two months, 92% of respondents said their relatives' quality of life had improved since they moved to Broughton House.
Karen said: "The support we have received from the Veterans' Foundation has been fantastic for our residents.
It's enabled us to fund the continued employment of a wellbeing and activities lead, and for our dedicated care staff to work extra hours so they can spend additional quality time with each veteran who has dementia or cognitive decline.
The impact has been reflected in our annual survey and we're sincerely and hugely grateful to the Veterans' Foundation for making it all possible."
Veterans' Foundation founder and CEO David Shaw said: "We are delighted to continue our long-standing support of Broughton House. The Veterans' Foundation is proud to play a part in the first-class care of British veterans living with dementia or cognitive decline."
Broughton House is just one of over 400 different military charities and charitable organisations that have been helped by almost £17 million in funding from the Veterans' Foundation and there are so many brilliant ways that Veterans' Foundation supporters have helped to fund over the years.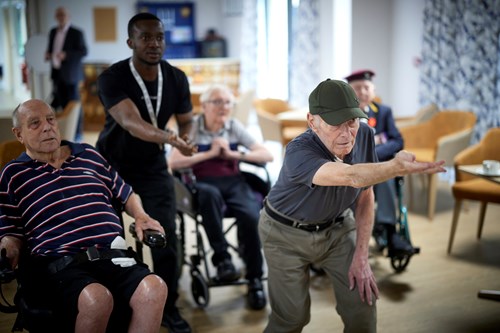 Veterans at Broughton House playing virtual bowling
"As our care home has expanded and we have welcomed more veterans to Broughton House, it's been wonderful to be able to provide company and stimulation for residents with those conditions," explained Karen.
"We've also been able to provide training for staff to experience for themselves what it's like to have dementia or cognitive decline, using virtual reality tools."
Led by Cheryl Monnie, an experienced care worker and qualified teacher who is the wellbeing and activities lead at Broughton House, staff have been able to support veterans with one-to-one and group activities to enhance their wellbeing and stimulate their memory and cognition.
"It's very exciting to have Cheryl as part of our team," said Karen.
"She specialises in textiles and design. Textures and craft activities are particularly important and valued by our residents, as they provide sensory stimulation."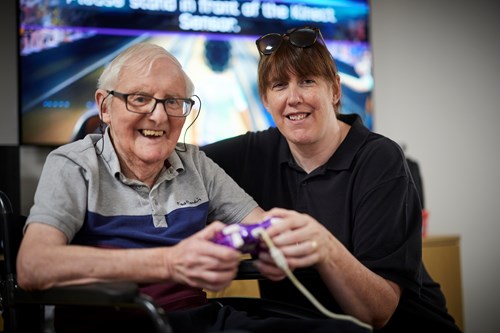 Cheryl playing video games with one of Broughton House's residents
As well as these activities, staff play dominoes and cards with veterans, take them on nature walks and hold pamper sessions for the female residents - they have also been able to provide a traditional barber's shop experience for the men.
Group activities include themed events focusing on other countries, with quizzes, interactive games and traditional food from those nations.
Broughton House has cared for more than 8,000 veterans since it opened its doors to the ex-service community in 1916. It has recently been redeveloped into a complex with a 64-bed care home and independent living apartments, an array of modern facilities, a museum, gym, hairdressing and barber's salon, and a restaurant and bar for residents.
There is also an Armed Forces Support Hub which provides welfare support and counselling for ex-service people of all ages living in the local community.
You can help charities and organisations just like Broughton House, while being in with a chance to win £50,000, when you sign up for the Veterans' Lottery.