The Veterans' Foundation has awarded a grant of £40,200 to Launchpad to help change the lives of homeless veterans.
Launchpad provides safe, secure accommodation and other essential support, with the help of partner organisations, to up to 100 Armed Forces veterans to help them make a successful transition to civilian life and the Veterans' Foundation have now given the charity over £500,000 in vital funding since 2016.
Many residents living at Launchpad have mental health issues, ranging from anxiety to service and non-service-related PTSD (Post-Traumatic Stress Disorder). Some need help with addictions to alcohol and drugs. However, over two-thirds of residents move on to long-term, settled accommodation and a more stable life.
Nicolas Tubbs, Chair of Launchpad, said: "On behalf of our Trustees and staff, I would like to thank the Veterans' Foundation and those who play the Veterans' Lottery, for their continued support and this very kind grant.
"This funding will make a big difference to supporting homeless veterans around the UK and help us to continue to support and deliver the excellent service we provide for our residents."
The funding is for three quarters, subject to quarterly reviews, and will contribute towards the charity's costs to help homeless and unemployed veterans rebuild their lives by providing accommodation and essential support.
Since 2013, Launchpad, which has three houses in Liverpool, Newcastle and Durham, has supported over 550 veterans. 62% of residents successfully move on to settled accommodation and 36% leave in paid employment.
"Our Impact Report (June 2021) highlighted outcomes for our residents and all those who completed our survey in February this year, reported better wellbeing and said they felt better prepared for civilian life," explained Nicholas.
"100% said we'd given them help they couldn't get elsewhere."
This latest generous donation from the Veterans' Foundation, part of the half a million pounds awarded to the charity since 2016, will enable Launchpad to continue to support homeless veterans, providing essential support for up to two years.
Players of the Veterans' Lottery, together with kind donors and fundraisers, have also played their part in supporting homeless charity Launchpad to open its third shelter in County Durham. The new centre is in addition to Launchpad accommodation in Liverpool and Newcastle and brings the number of flats available to ex-servicemen and women without a home to 100.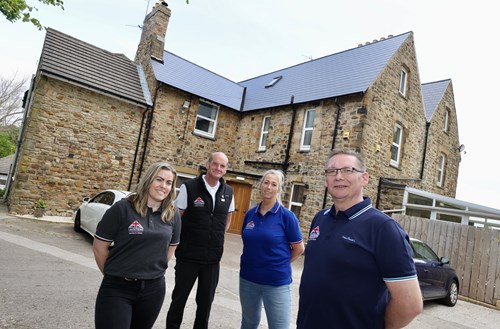 Above: Launchpad Staff outside their new Hollyacre House shelter.
The Veterans' Foundation raises its money through the Veterans' Lottery and donations. It awards grants to fund charities that help serving and former members of the Armed Forces, their dependents and operationally qualified seafarers who are in need.
Since its inception in July 2016, the Veterans' Foundation has awarded over £10 million through more than 500 grants supporting over 300 unique organisations.
This year, the Foundation expects to award grants totalling more than £4.5 million. The hundreds of charities and other organisations they have helped include those tackling the challenges of mental and physical injuries, homelessness, unemployment, children's loss of serving parents and remembrance.