Join us in congratulating a former Royal Marine who is our latest £50,000 Veterans' Lottery rollover jackpot winner.
May's top prize went to Rory, who served for 37 years and although now retired, readily admits that he'll be a Royal Marine "until the day I die."
The win came as a total surprise to Rory, as well as his wife, who didn't even know that he'd signed up, but it's no surprise that friends made during his long military career influenced his decision to play the Veterans' Lottery.
"I'll be honest, I didn't actually know anything about the Veterans' Lottery until I saw Jason Fox, who's an old friend of mine, doing some advertising online," said Rory.
"I thought: 'that looks a good option that's giving money towards helping veterans', so I signed up."
Rory's experiences and connections have given him a unique perspective on those who have served and he believes that military charities are just as important as ever.
"There's undoubtedly need for veterans' charities and most people in the press have seen why we need them," he said.
"There are numerous guys out there struggling and it's not even just the emotional side, it's veterans who leave who don't necessarily find their future.
It's not just the guys who you hear about in the press who might be injured or stressed, it's also the average guy out there who is trying to find some work in the future, so I think if we can help them in any way we can, fantastic."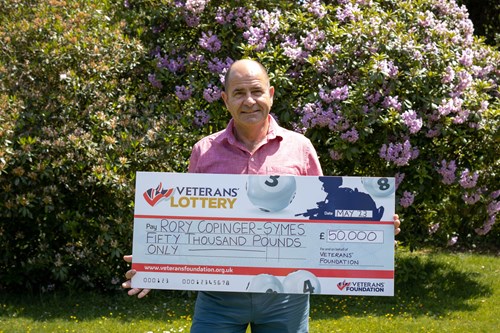 The ex-Marine's support of military charities extends even further after his retirement, he's also helping veterans through his next adventure – Whiskey blending.
"I had this idea because I'd been blending whiskey casually at home for years," explained Rory.
"So, I put it out there and here we are two-and-a-bit years later and we've sold several thousand bottles of Commando Spirit and raised a whole load of money for charity through the Royal Marines Association."
A further 81 players were also successful in May's draw, with one being the £3,500 second prize winner, Sandra from Leeds.
Sandra has been playing since 2019 and was shocked when she heard the news that she'd be receiving an unexpected windfall after signing up to help veterans who have done so much for our country.
The money will go towards paying some bills off, so the win has come in very handy for Sandra, as it will for the 80 different winners of the £120 third prize in May's draw.
To become a part of the success story that is the Veterans' Lottery, playing a huge part in the £17 million in grants awarded to over 400 UK-based military charities all over the UK, while being in with a chance to win £50,000 every month, please sign up to play today: