A huge congratulations to Viv Hinton from Malvern who was the lucky winner of the Veterans' Lottery's £7,000 monthly first prize in August's draw!
The win coincided with her one-year anniversary of signing up to play the Veterans' Lottery, so it was a very happy anniversary indeed for Viv, who signed up originally because she wanted to do whatever she could to help veterans.
Viv was extremely shocked to hear that she'd won, so much so that she couldn't even process what she might do with her winnings, but we're sure the money will definitely make a big difference to her life.
August's second prize went the way of Carol, who has been playing the Veterans' Lottery since November 2020.
Although Carol didn't know what she'd spend the money on, the Middlesbrough native's three years of support certainly deserves the £3,500 pay off from last month's draw - many congratulations, Carol!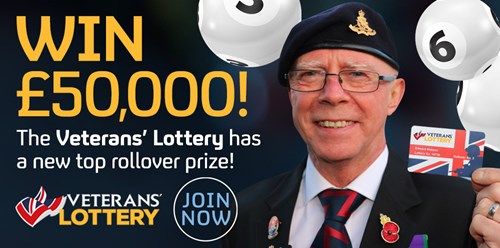 From Roy in Torquay to John in Lockerbie, through Gary in Londonderry and Jacqueline in Penymynydd, 80 more lucky players all over the UK were lucky recipients of the £120 third prize, a welcome boost for so many of our loyal Veterans' Lottery supporters.
Double check to see if you've won a prize below:
The loyal players of the Veterans' Lottery have now contributed a large percentage of almost £17 million in grants to over 400 charities and charitable organisations helping our ex-servicemen and women, so a massive thank you for your incredible support since the Veterans' Lottery began back in 2016.
Remember, even if you've already signed up, you can have up to FIVE tickets in order to maximise your chances of winning the stunning £50,000 rollover jackpot every month.
So, to help British veterans in need and be in with a shot of winning life-changing prizes, click below and play the Veterans' Lottery today!