June's Veterans' Lottery draw saw another £20,000 awarded to lucky prize winners - including the £7,000 first prize which made its way to County Durham.
A huge congratulations to John from Darlington who scooped the big win in last month's draw and, after signing up all the way back in November 2017, it's a well-deserved boost for one of our longer-serving Veterans' Lottery players.
John's long family history of military service was one of his reasons for playing and his belief that it was such a good cause means that the Veterans' Foundation is the only charity he supports.
His winnings will go towards helping out some of the younger members of his family - many congratulations John!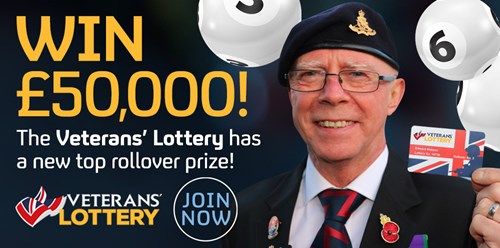 The £3,500 second prize went to Sarah from Walton-On-Thames who was shocked when she found out the great news.
Her reason for playing the Veterans' Lottery was also close to home, with her Grandfather's service being her inspiration.
This win came at a good time for Sarah, who will be paying off her credit cards at the same time as supporting British veterans in need.
80 more lucky players from Plymouth to St Andrews took home the £120 third prize, a welcome boost for so many of our loyal Veterans' Lottery supporters.
The Veterans' Lottery has now contributed to almost £17 million in grants to over 400 charities and charitable organisations helping our ex-servicemen and women all over the UK, so a huge thank you for your incredible support since the Veterans' Foundation's inception back in 2016.
Remember, even if you've already signed up, you can have up to FIVE tickets in order to maximise your chances of winning the stunning £50,000 rollover jackpot every month.
So, to help British veterans in need and be in with a shot of winning life-changing prizes, click below and play the Veterans' Lottery today!