A former Royal Electrical and Mechanical Engineer whose life was turned upside down when he stood on an IED (Improvised Explosive Device) has described how he has 'faced the future with fortitude'.
The tragic event and the aftermath, captured on a head cam worn by a fellow soldier, resulted in the loss of both his legs at the knee.
Despite the immense physical and emotional trauma, Alec Waters transformed his life over the next decade, drawing from a deep well of courage to overcome the odds.
Born with an inclination for adventure, Waters always knew that the Army was his destiny.
"From around the age of 12, I wanted to do something a bit different, travel, do something exciting, and it was always the Army for me."
The Army's ethos, ingrained in him from day one, was that he was a soldier before anything else. This sense of duty and honour was tested on November 29, 2012, when Waters, during a routine patrol on his third tour of Afghanistan, triggered an IED.
Describing the moments following the explosion, Waters said, "It was just a thud, and I'm going through the air. It took five or ten seconds for me to come around properly."
In a poignant reflection on the realisation of his wounds, he remarked, "I looked down at my legs and they just weren't recognisable. It was like an intense feeling of loneliness initially, but then the lads were all over it and fixing; they were just absolute professionals straight away."
A Chinook helicopter arrived to evacuate him to safety, and for Waters, the roar of its blades was a beacon of hope.
He remembered the medical team who worked to stabilise him; "The guy you see there when I got dropped in front of, he had this needle, said you know this is going to hurt. I thought, no, just give it to me. It's not like I've been in a lot of pain."
The next chapter of his journey began in the intensive care unit in Birmingham, surrounded by his family. The physical alteration was difficult to accept; his lifelong plan to be in the Army was suddenly not an option. But a letter from a World War II veteran during his time in intensive care offered solace and wisdom.
Waters shared; "There's one line in this letter that particularly stuck with me in hospital. I assure you that when the wounds heal and the uphill struggle to regain independent mobility is easier, one gradually becomes aware of unsuspected blessings arising from a life-changing misfortune, demanding the three F's - Facing the future with fortitude."
Drawing from this veteran's wise words, Waters redefined his life and its purpose. Although his initial attempts at walking on prosthetics were painful, he persisted. "I got fitted with some blades and then all of a sudden I could walk two miles and then three miles and four miles. Things started to get better from that point," he recalled.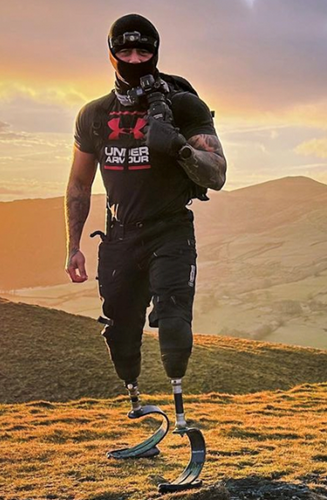 As he reclaimed his mobility, Waters found a new passion - photography. He said, "It's given me that direction and drive. It's something I want to keep doing, keep getting better at. It's just me and the camera."
Ten years on from his life-altering incident, Waters reflects on his journey with pride. His tale, encapsulated in the veteran's three F's - Facing the future with fortitude - serves as an inspiration not just to him, but to anyone going through their own battles.
Waters concluded, "I'm very grateful that I've got this footage, and now, years down the line, I can look back at it and just see how far I've come."
Supporting military charities and veterans like Waters can make a significant difference. Through their shared experiences and collective resilience, we can all learn something about the power of the human spirit. Whether in the face of adversity, physical disability, or emotional trauma, their strength and fortitude are testament to the enduring power of hope.
If you would like to support veterans like Alec, please play the Veterans' Lottery, the national Lotto that has helped the Veterans' Foundation to give almost £17 million to over 400 different charitable organisations helping our veterans all over the UK.