The veteran who won Britain's first ever Para Nordic medal at the World Championships has told the story of how he survived an IED blast in Afghanistan.
Scott Meenagh was just 21 when an improvised explosive device removed both his legs, but he refused to let his disability define him.
He recalled the day he suffered his injuries. "As I was leaving the checkpoint, I thought; 'Do not die today.' And when I stepped on that IED I thought; 'I cannot believe I've gone and died.'"
Scott was born with a sense of duty and felt that there was nothing you could be prouder of than serving your country.
Inspired by the Parachute Regiment whilst training with the Scottish regiment, he decided it was 'the Paras' he needed to serve with.
Describing them, he said: "these are the kind of human beings who run towards danger".
In 2011, he was serving with the 2nd Battalion Parachute Regiment in Afghanistan when he was injured.
Meenagh knew the risks involved in serving for his country, but it was when he was injured that he realised the impact it had on his mother. He woke up two days later in Birmingham to face the guilt of seeing his mother's shattered expression.
"I chose to go to war. I knew the risks," Scott shared. "But seeing what it did to her filled me with guilt."
Determined not to let his injuries define him, Scott embarked on a relentless quest for "tiny wins" during his rehabilitation.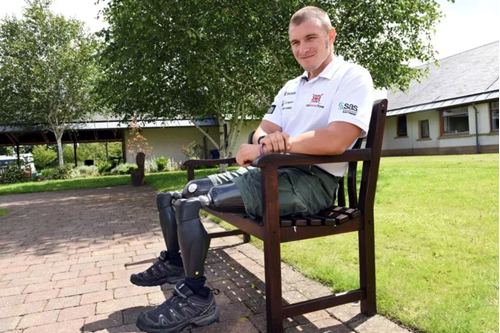 He mastered using prosthetic legs, but the void of community and purpose persisted. This changed when he decided to throw himself into high-performance sports.
The former Para began rowing, and was a captain of the British Army team that won silver at the inaugural Invictus Games in 2014, but his greatest triumphs were still to come in a different field.
In 2016, Scott joined the Armed Forces Para Snow Sports team and, after years of blood, sweat and tears, won a brilliant silver medal at the 12.5km individual Biathlon event at the 2023 World Para Nordic Skiing Championships.
Scott's journey is a testament to his resilience. He is inspired by the memory and sacrifice of Martin, a friend who died whilst he was injured.
"One day we'll cross paths again, and I'll be able to say I gave it everything," he mused.
Beyond his athletic achievements, Scott proudly serves as an ambassador for Erskine, an organisation that has set standards in veteran care since the First World War.
He stressed the importance of support from initiatives like the Veterans' Lottery in ensuring long-term care for those who have served.
"The people who play the Veterans' Lottery and contribute see the long-term importance," Scott said.
"They recognise the price veterans have paid, and for that, I'm eternally grateful."
If you would like to support veterans like Scott and the charities that help them, just like Erskine, then please click below to play the Veterans' Lottery - you could be in with a chance to win £50,000 every month!