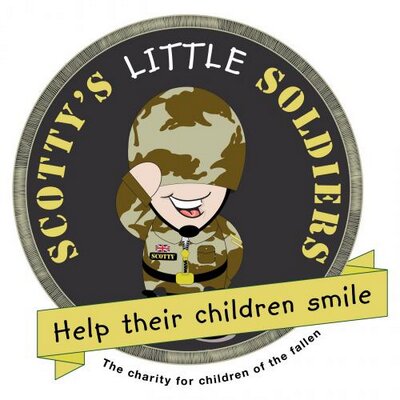 Scotty's Little Soldiers
Why does Veterans' Foundation support Scotty's Little Soldiers?
Scotty's Little Soldiers is a national charity dedicated to supporting children and young people who have lost a parent who served in the British Armed Forces.
Inspired by the experience of Army widow Nikki Scott following the death of her husband Cpl Lee Scott in Afghanistan in 2009, the charity provides assistance to hundreds of bereaved British Forces children around the UK.
The charity is split into three categories, Smiles, Support and Strides.
Smiles includes fun activities and gifts which have the purpose of making children smile.
Support includes personal counselling and provides assistance for the physiological aspects of the loss of a loved one.
Strides supports the progression and development of the children who pass through the Scotty's Little Soldiers infrastructure. Financial support to continue education and pursue activities make up some of the Strides programme.
The members of Scotty's Little Soldiers each have the opportunity to go on a holiday with their families once a year. These holidays take place in fully-equipped holiday parks around the UK and the beneficiaries have access to activities and everything needed for a family to have a break from the rigours of everyday life whilst they overcome their grief. Another way in which Scotty's Little Soldiers help ease the pain of bereavement is through gifting children birthday and Christmas presents. Having an extra gift is a small gesture to show a child that they are not forgotten.
How you can support the Veterans' Foundation
The Veterans' Foundation has provided grants to hundreds of UK-based military charities and organisations since its inception in 2016. It is dedicated to distributing funding to where it is most effective and millions of pounds have been given to projects that have a positive impact on British veterans, and their dependents, in need.
If you'd like to become of a supporter of the Veterans' Foundation you can do so by making a donation, by fundraising, by leaving something to Veterans' Foundation in your will or by joining the Veterans' Lottery. Thank you.